North-East Shropshire is part of the North Shropshire Plain, and therefore has not much in the way of hills. An exception to this is Hawkstone Park, one of several sandstone outcrops in the Midlands, with its eccentric collection of follies, caves and woodland walks.
There are 3 interesting market towns, Whitchurch, Market Drayton and Wem, each with its historic church.
Near Whitchurch is Brown Moss, an ancient peat bog and area of Special Scientific Interest. ('Moss' is a local word for 'peat bog'.) Peat is thought to have been cut for fuel in the Middle Ages for the people of Whitchurch, and this has left an area of small lakes, heath and woodland which is home to 200 varieties of plant, some very rare, and a wealth of bird, animal and insect life. There is a 'quaking bog' in which 1.5 metres of peat lie over free water. There are several walking trails around the Moss.
There are several gardens to visit, notably Wollerton Old Hall and the Dorothy Clive Garden near Market Drayton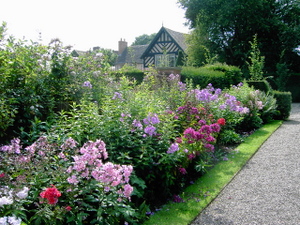 and Hodnet Hall.
The Shropshire Union canal and its branch, the Llangollen canal, run through the area, skirting Whitchurch and Market Drayton. The canal is a magnet for boaters, cyclists and walkers.
Picture: Wollerton Old Hall Gardens. AP