St Mary TF9 1AD
Car park 150 yards away, good level access and the church is dementia friendly. Toilet.
Open weekdays 11am-1pm, Wed (market day) 10am-2pm
Both physically and spiritually St. Mary's is at the heart of the busy town of Market Drayton in Shropshire.
With around 300 people on its electoral roll, and average weekly attendances of well over 100, St. Mary's provides fellowship, teaching, healing and sanctuary to all those seeking to deepen their faith or to discover the truth of God's love for each one of us.
A number of different types of service are provided in order to meet the needs of all our church family, and a wide variety of other activites (including homegroups, courses, prayer support and mentoring) are available for those seeking to discover or develop their faith.
Please visit our website for details or follow us on Facebook :
https://www.facebook.com/StMarysMarketDrayton/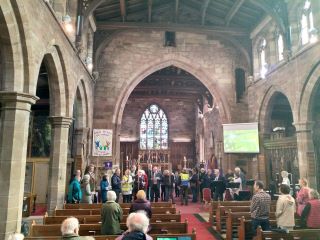 Pictures from St Mary's Facebook page