St Bartholomew
TF11 8PW
Parking and toilets at nearby village hall. Wheelchair access. Open daylight hours.
A striking fifteenth century cruciform perpendicular Gothic church with octagonal tower. Medieval misericords.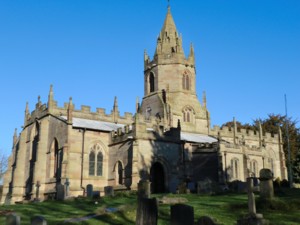 Nineteenth century panelling from Oberammergau and Kempe east window. Golden chapel with intricate fan vaulting and many fine fifteenth century tombs.
The church was originally a Collegiate church although the college buildings which included ' a warden and four priests, two clerks and thirteen poor people' have long since gone.
Read about Tong church and the work of the church community.
The church of St. Bartholomew's in Tong was chosen by Simon Jenkins of The Times as one of the best 1,000 churches (out of 15,000) in England (1999), awarding it three stars out of a possible five. He refers to the 'almost unmatched collection of village tombs'.
For more about the history of the Collegiate College and the Church of St Bartholomew, visit the discoveringtong website; from a digital archive you can also download as a pdf document, A history of Tong, Shropshire, its church, manor, parish, college, early owners, and clergy, with notes on Boscobel (1894).
Visit us on Facebook https://www.facebook.com/tongchurch/
Photo above: Tong church website
below: Tong church Facebook page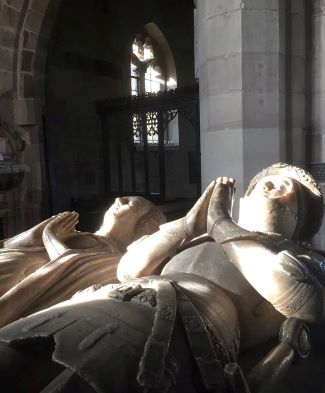 Sir Richard Vernon (1390 - 1451) with his wife Benedicta with the light streaming on the beautiful translucent alabaster.