Wrockwardine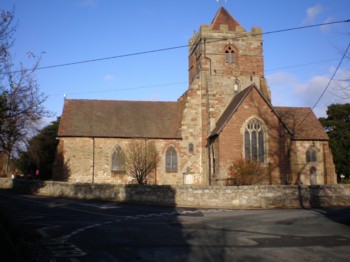 St. Peter TF6 5DG
Details of keyholders on the church notice board
Wheelchair access, toilet suitable for disabled persons and baby changing facility.
The village of Wrockwardine is in a conservation area located on the north-western boundary of Telford. The name means 'enclosure by the Wrekin'. The parish includes a group of small settlements, in what remains a mainly rural parish.
St. Peter's church a Grade 1 listed building, presumed to be of Saxon origin, and has an impressive entry in the Domesday Book of 1086. It is a cruciform building, unusually with a central tower, The eastern half of the nave is Norman, and there are blocked Norman doorways and other Norman details.
The tower is supported by huge buttresses. The lower part of the tower is Early English, with lancet windows.and the upper is Decorated, with an battlements and a pyramid roof.
Entering the body of the church you see a long nave, without aisles. . At the crossing are four massive late Norman multi-shafted piers, supporting four pointed arches from the 12 th century. In the western walls are blocked half-arches, which may have been constructed in the expectation that aisles would sometime be added to the nave.
Furnishings include a Jacobean pulpit and communion rails dated 1685; these were re-instated in 1931 having been found in Wrockwardine Hall. There are three fonts in the church; the weathered ancient one in the centre of the church is believed to be pre Norman. A fourth font owned by the church is currently located in the ruins of Old St Chad's Shrewsbury.
No ancient stained glass has survived, but from more modern times there is much of interest, with some of the designs by Kempe and O'Connor.
There are six church bells; two of them are believed to date from the 14 th century, the others mostly from the 17 th century.
We welcome visitors to our church, which has a lively pattern of modern and traditional services. Visitors of all denominations are always welcome to share fully in communion..
Websites;
For information about services and other activities:
wrockwardinedeanery.org.uk
St Peter's is currently being restored, partly Lottery funded.
For more information about the extensive restoration programme: visit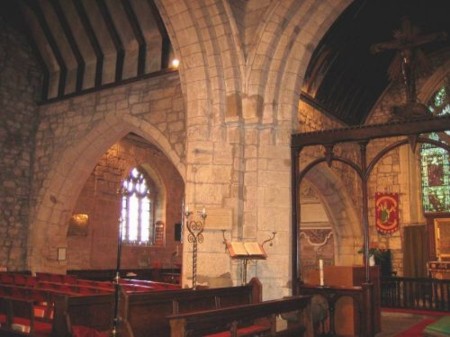 PIcture from St Peter's website.