St Michael the Archangel
SY10 8NQ parking, wheelchair accessible with assistance, WC. Open daylight hours.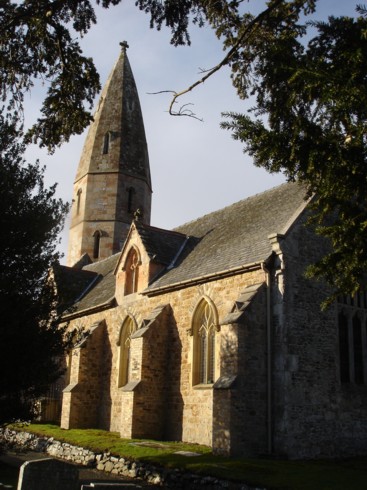 Llanyblodwel is a small but picturesque village on the Welsh border. St Michael's stands above the River Tanat.
One of the earliest holy sites in Britain, believed to be 1700 years old. The current church was built by the Normans on the Welsh side of Offa's Dyke around 1160AD but the shape and character owe much to the work of Rev'd John Parker in the 1840s. It is noted for its domical tower which encompasses the belfry. The many visitors to the church are attracted by the interior, the wooden screen, square panelled ceiling and above all the ornate passages of scripture on the walls. Visitors find it a place of peace and tranquillity.
Grade I listed
website: https://borderparishes.org.uk