St Peter. SY10 8PJ Parking. Open all day every day.
In the beautifully tranquil pastoral setting of the Shropshire/ Powys border country,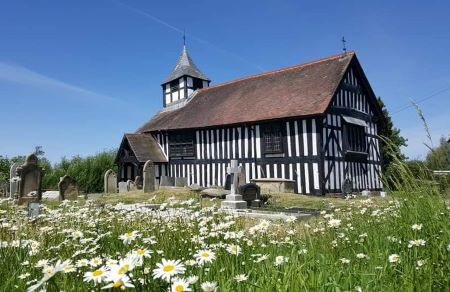 lies the village of Melverley.
A rare example of Early English churches constructed of timber, wattle and daub. It is situated on the banks of the River Vyrnwy. St Peter's Church was rebuilt in 1406 to replace the wooden church that was burnt down by Owain Glyndwr during the Welsh uprisings in 1401. All that remains of the old building is the Saxon font, which is still used for Baptisms today. There is a Jacobean pulpit, a lectern with a chained bible, a gallery and a Charles Kempe window. The parishioners of Melverley look back with pride to a history of over 1000 years of worship in the church founded so long ago.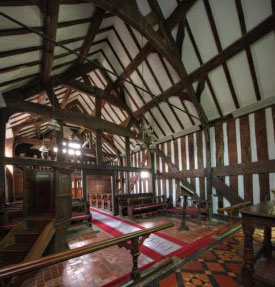 Visit the website for more information about the church and the church community.
top pic, AP
interior from Melverley Church website