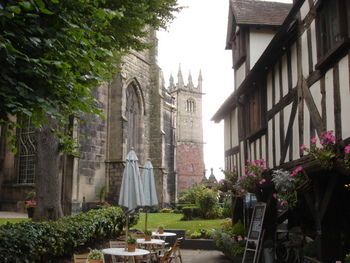 First-time visitors to Shrewsbury are invariably delighted by what they experience. "We spent the whole day just walking about enjoying it" said a couple from the London area. Shrewsbury is a town of great historical importance containing a remarkable architectural heritage and, quite simply, of great natural friendliness.
On its defensive hilltop, encircled almost completely by the river Severn, it contains winding streets with ancient and fascinating names, a castle, the remains of a Norman fortified house, medieval half-timbered buildings, much Georgian brickwork, early Industrial architecture - notably the Flax Mill, the first iron-framed building ever constructed (1796), some fine public buildings in the Square, which is much used for Farmers' Markets and such-like, and at least five remarkable churches.
These include an Abbey turned Parish Church at the time of the Reformation and founded in 1083, a youngster when compared with the Saxon foundations of Old St Chad's. St Mary's has an amazing collection of continental stained glass imported during the Napoleonic period. St Alkmund's was built in Gothic Revival style with a wonderful painted east window by Francis Eginton (1795), and new St Chad's (1792) is a round church by George Steuart in the neo-classical style with a notable collection of early 19th century English stained glass made locally. Steuart also built Attingham Hall, a National Trust property four miles outside Shrewsbury, set in a beautiful deer park. There is wonderful William Morris stained glass at Meole Brace, less than two miles from the centre.
Shrewsbury is a working market town; it is also the county town of Shropshire. Its charm for the visitor is that it is a natural, down to earth working town which happens to be among the very best of England's places worth visiting. If you want to taste the essence of Shrewsbury - COME AND SEE IT! If you love England and its history, you will not be disappointed.
PIcture: St Alkmunds and St Julians, Bear Steps.AP..