Shrewsbury Unitarian Church SY11 1LR Parking close by, wheelchair access and WC.
Please check website for opening hours Tel. 07487 531913
Nuturing faith, embracing life, celebrating difference.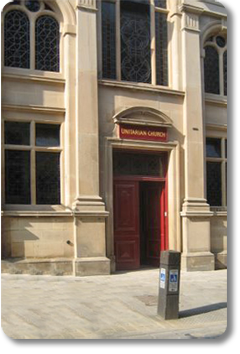 In the midst of a busy town we find
A place of quiet
A place of reflection
Into the stillness and quietness of this place
We come from the noises of the city
And are thankful for this place of Sanctuary
This town centre church was founded in 1662 and has a surprisingly rich history.
Charles Darwin attended here with his family as a child.
For more information about this lively and historic church visit the website
http://www.ukunitarians.org.uk/shrewsbury
or Facebook page:
https://www.facebook.com/ShrewsburyUnitarianChurch/