St Giles WV16 6UF parking, wheelchair access, WC at Down Inn PH nearby
Open daylight hours.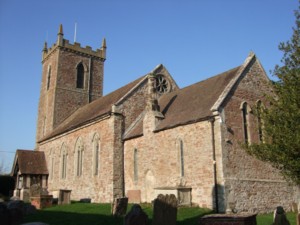 The south doorway and Chancel date from the 13th century, the arch resting on 15th century figure-head corbels. A Medieval Cross within the churchyard is associated with Lady Godiva who is believed to have had a Saxon manor at Chetton. The tower, built in 1829, houses 6 bells.
To read more about the work of St Giles church and the church community, visit
A Church near You, Chetton Church