All Saints
SY8 2DB Disabled access with assistance. Open daylight hours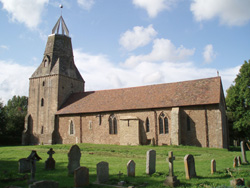 Culmington's All Saints Church is a gem – one of the oldest churches in Shropshire.
Without doubt it is the most distinctive church in Shropshire with its aluminium spire placed where normally a conventional stone steeple would be.
It is open all day every day for both simple visits and those who seek private prayer. The entrance to the church and churchyard is at the point where the village road bends sharply and is between the large farmhouse and the farm buildings. The church and approach access is wheelchair friendly.
We can seat comfortably about one hundred people. More if one "sits familiar" !
The church is entered at the base if the early fourteenth century tower with an unfinished spire and unique aluminium finial. Herringbone masonry of the nave walls indicates a late Saxon or early Norman date. A medieval rood screen and stairs survive. There is a fine piscina and tomb recess in the chancel.
To read more about the work of the All Saints church community, visit the church website.
All Saints is A Caring for God's Acre church. For more information on the conservation work of this organisation, visit their website.
CORVEDALE FESTIVAL Harp Recital, Writing Workshop,on 21st September Programme here