SY8 2AE parking, wheelchair access, open daylight hours.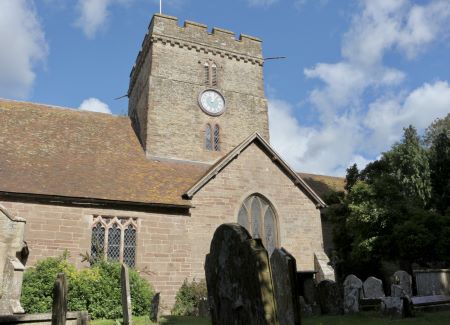 Click here for a lovely walk-round guide pdf
St Peter's is one of the few churches mentioned in the Doomsday Book (1086) this was once a prosperous place. A beautifully proportioned cruciform Mother Church to Ludlow, it is originally Saxon, about 1050, with 13th and 16th century additions. There is typical Anglo-Saxon stonework in the west and north walls, and part of the north transept, with thin pilaster strips. The blocked north doorway is also in typical Saxon style. The chancel is 13th century with the tower and south transept built a century later. There are many highly coloured windows.
Victorian improvements include the windows, altar and reredos of Caen stone with beautiful painted panels. There is an original Gray and Davidson organ. The eighteenth/ nineteenth century churchyard lies within a larger prehistoric enclosure.
For more information, visit the St Peter's website