Stoke St Milborough and Heath Chapel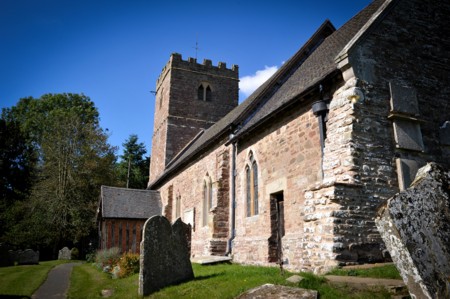 St. Milburga's Church
SY8 2EJ parking, wheelchair access, WC. Open.
stands in the centre of the village of Stoke Saint Milborough, on the Brown Clee hillside. Known in Saxon times as Godstoke, the village is thought to have belonged to the Saxon abbey at Wenlock founded in 680A.D. by St. Milburga, daughter of Merewald of Mercia. The early 13th century chancel arch is the oldest datable feature of the church, with flattened leaf decoration of the capitals of the responds. On the west wall of the porch is its oldest monument, the simple medieval grave stone showing an encircled cross.
Open daily to visitors, St. Milburga's offers a variety of Sunday services, clergy- and lay-led, traditional and modern, activities such as bell-ringing and singing and groups for prayer and study.
St Milburga's has a peal of 8 beautiful, newly cast bells. The bell Captain is always pleased to show it to ringers (and others who are interested). There are three or four training sessions a week, and new ringers are welcomed. See https://www.facebook.com/stmilburga
For a baptism, wedding or funeral, inquiries may be addressed to the Administrator on 07943 247 184.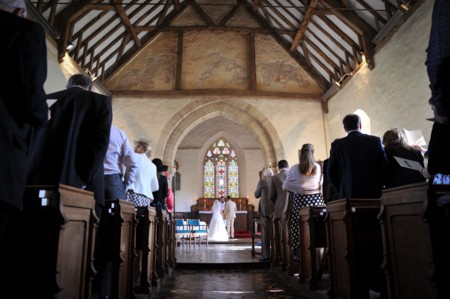 A wedding at St Milburga's
St. Milburga's chapel of rest, the 12th century Grade 1 listed Heath Chapel, of no known dedication. has survived almost untouched for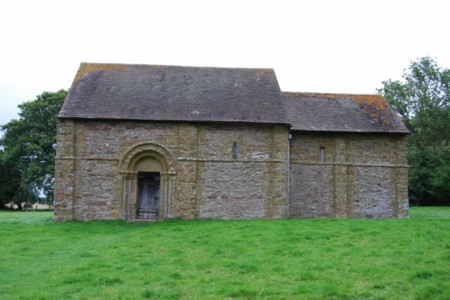 900 years, since its construction on the slopes of the Corve Dale. It sits in a field between the villages of Clee St. Margaret and Abdon, the beautifully hinged door and double order of arches with zig-zag motif being its only decoration. The roof has been recently restored; the interior is as built. The abandoned village which it once served is in an adjoining field. Postcode SY7 9DS. Key at nearby farm.