St Mary. SY8 3DB P limited in the lane. Church open.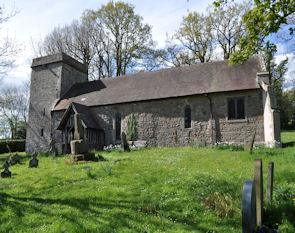 St Mary's Church sits on a high bank above the village of Whitton in Shropshire. The main access is via a set of steps from a sunken lane, then on through a Victorian wicket gate into the churchyard. There is a second access to the Church via a grass and rubble driveway to the north.
Much of the structure dates from the 12th Century and the Norman origins are still visible in the slit windows and the south doorway. At the West end stands the massive and squat 14th century tower, almost completely plain. Here, as also in the Nave structure, can be seen thin Roman bricks, possibly salvaged from a Roman Villa in the neighbourhood. In the early 1890's some extensive alterations were made.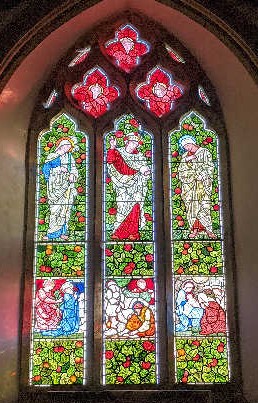 The interior furnishings are on the whole simple with gentle and sympathetic carving to the pulpit and choir stalls, as befits a small country church of this type.
On entering one notices a blocked-up doorway opposite in the North wall. A possible explanation is that in some parts of England, during the middle ages, it was the custom to carry children in for baptism through the North door, which was slammed shut as soon as the baptism was performed. The North side was looked on as the "Devil's Side" and in this way signified "Death unto Sin and New Birth into Righteousness".
In the base of the tower is a Baptistry with a mainly Norman font with Victorian renovations. It is unusual to have a font in its own Baptistry rather than just inside the door.
Further up the North wall can be seen a carved chalice set in the stone; this was originally on the grave of a priest and is now placed near to where the altar formerly stood. In the Nave are three of the original Norman windows. A larger 14th Century window is in the South East corner.
There are some beautiful Pre-Raphaelite windows including the East window designed by Sir Edward Burne Jones, and executed by William Morris.
The churchyard is looked after under the 'God's Acre' scheme, mainly by volunteers, with conservation management being most important and during spring there is an abundance of wild flowers, principally wild daffodils.
Visit: https://www.facebook.com/Whitton-South-Shropshire-109546910460656
Text and pix from Tenbury Team website.