St George
SY5 0PS Parking on street, wheelchair ramps available, WC.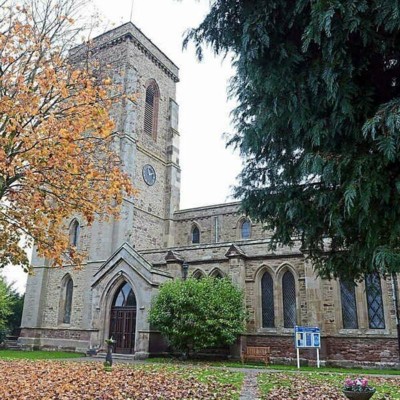 For a small village, population around 3,500, the church is large, and has a very active and lively congregation. Pontesbury is a rural community, and extends a warm welcome to all visitors. St George's is open to all during daylight hours, but is closed at night.
Pontesberie, now Pontesbury, is mentioned in the Domesday Book. The Church is first named in 1254 and that original Church may have been dedicated to St. Bartholomew.
A Collegiate Church of St. George, Pontesbury was built around 1250 on the site of the old Saxon Minster, and from it a College of Priests served the very large area of Pontesbury Parish. Before 1825 the medieval Church consisted of a chancel, nave, north and south aisles and a northern tower. The tower and probably the nave were built in the 12th century. The chancel was a fine example of Norman work and was originally separate from the main body of the church. Of the two aisles, that on the north was probably constructed in the earlier 13th century, while the south aisle was added in the early 14th century.
You now enter the church through the new West End room created in 2003, in the space left by the removal of two rows of pews. Furthermore, the church's central position in the life of the village both for worship and for social purposes was recognized and it was decided to provide a facility which will enable the Church to continue to provide the care and service the community.
Particular things to look for include the font, the Eubank window in the north aisle, the East window, the early 17th century oak panelling around the walls, re-using sides to the box pews and the aumbry, where consecrated bread and wine were kept for taking to the sick which dates from 1652
Visit the St George's website to read more about the work of the church, history, and much more.
Photo from St George's Facebook page