The gateway at the entrance to the churchyard was constructed in 1997 to commemorate the 1992 restoration. The pillars are of local stone interspersed with blocks of Stiperstones quartzite and are capped with Grinshill sandstone, to reflect the building materials used in the church. The existing wrought-iron gate, which may date from the 1905 restoration, was retained. A botanical survey of the churchyard in 1998 identified an outstanding meadow flora; there is a profusion of wildflowers which were once common, particularly in traditionally-managed hay fields, but have now declined due to changes in the countryside, notably in farming methods. The churchyard is now managed as part of the Caring for God's Acre scheme, by means of selective mowing in the appropriate season, in order to maintain the diversity of its flora. There are three fine yews near the porch and more in the field near the path from the road, suggesting that at one time the churchyard was larger than at present. The one to the west of the church is known to be of great age and could perhaps date from the foundation of the church.
Scott Graves
The grave of Mahlah Addyes-Scott is a simple curbstone to the west of the path, near the porch, whereas the memorial to her son James and daughter-in-law Kate, nearer the entrance to the churchyard, is a much more elaborate affair of granite, surmounted by an ornate Celtic cross. This difference may well be significant; it seems that, at least towards the end of her life, the relationship between Mahlah and her family was more than a little strained. In consequence, in her will dated 1889 she bequeathed her entire estate to one of her sisters, rather than her son or grandson. Nevertheless, she continued to take her role of 'Lady of the Manor' seriously; in addition to restoration of St Margaret's church she established the school at Norbury in 1870 and evidently derived great pleasure from visiting it thereafter. This is now Norbury County Primary School, though the one founded by her husband in Ratlinghope in 1868 closed many years ago and is now Bridges Youth Hostel.
Munslow Monument – Ratlinghope's Sin Eater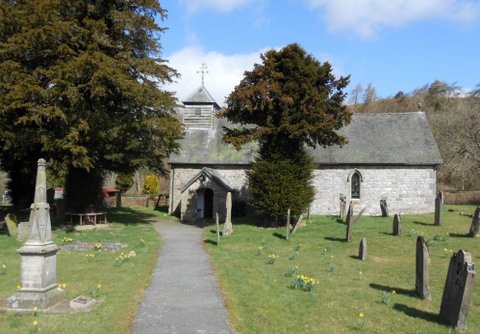 Munslow monument in front of Mahlah Scott's grave
Between the Scott graves and adjoining the path is the tall memorial to members of the Munslow family. Richard Munslow (1833-1906) is believed to have been the last sin-eater in the region. If someone died suddenly without confessing their sins, the sin-eater would attend the funeral. He (or she, perhaps) would eat a loaf of bread and drink ale from a wooden bowl that had been passed to him over the coffin, and then make a short speech along the lines of 'I give easement and rest now to thee, dear man, that ye walk not down the lanes or in our meadows. And for thy peace I pawn my own soul. Amen.' For this he received a small payment, typically sixpence*. The church would hardly have condoned this practice, but had little choice but to turn a blind eye to it.
Sin-eating was an ancient custom that may have had its origins in the early Israelites' practice of transferring sins to a 'scapegoat' (Leviticus 16). It was particularly prevalent in Wales and the Marches, but had almost died out by the early 19th century. A sin-eater was usually a poor person and generally something of a social outcast, but Richard Munslow was neither; he was a member of a respected family and farmed between 70 and 75 acres at Upper Darnford, employing two or three labourers. He would also have had grazing rights on the adjoining Long Mynd and may was probably a farmer of some substance. The Munslows came to Ratlinghope early in the 18th century and by the middle of the 19th there were several branches of the family in the parish. James (1793-1873), Richard's great uncle, was parish clerk for many years and others were farmers or farm workers in the Darnford valley and around Gatten. Richard was one the 5th generation of Ratlinghope Munslows.
So why did Richard Munslow revive the custom of sin-eating? The clue is perhaps a text on the monument; on the north side of the plinth is inscribed Jesus said 'Suffer little children to come unto me, and forbid them not, for of such is the kingdom of Heaven' (Mark 10, 14). Although the deaths of Richard on 23rd April 1906 and his wife Ann on 8th August 1913 are recorded, it is primarily a monument to four of their children. George, their first child, died on 11th April 1862, aged 11 weeks, and between the 1st and 7th of May 1870 the next three, Thomas, James John and Elizabeth, died of scarlet fever. They were aged 3 years 8 months, 6 years and 1 year 7 months respectively and it may well have been the tragic loss of three children within a week that drove Richard to revive the practice of sin-eating. Richard and Ann later had two more children who outlived them, Mary Ann in 1873 and Annie in 1876.
Due to settlement of the grave, the monument tilted and about the mid-1970s the upper part fell and broke into several pieces. An appeal for funds to restore it attracted widespread publicity and it was an early item in the BBC Radio 4's History of the World in 1000 objects, being featured in the Sunday programme on 23 May 2010. The necessary funding was soon raised and it was re-erected in July 2010.
| | |
| --- | --- |
| | |
| Left: Charles Carroll, BBC Radio 4, interviewing Rev. Preb. Norman Morris and Anni Holden, Director of Communications, Hereford Diocese, May 2010. Right: Restored Munslow monument | |
Inscription on Munslow Monument
East face: In loving memory of RICHARD MUNSLOW died April 23rd 1906, aged 73 years THY WILL BE DONE
North face: In loving memory of ANN MUNSLOW wife of Richard Munslow, who departed this life August 8th 1913, aged 77 years THY PURPOSE LORD WE CANNOT SEE, BUT ALL IS WELL THAT'S DONE BY THEE
West face: In memory of four children of RICHARD and ANN MUNSLOW (of Upper Darnford GEORGE died April 11th 1862 aged 11 weeks
South face: THOMAS died 1st May 1870 aged 3 years 8 months JAMES JOHN died May 2nd 1870 aged 6 years ELIZABETH died May 7th 1870 aged 1 year 7 months
North face of plinth: Jesus said 'Suffer little children to come unto me, and forbid them not, for of such is the Kingdom of Heaven'
* There is a good account of the custom of sin-eating in 'Precious Bane' by the Shropshire authoress Mary Webb, who devoted much of chapter 4 to the subject. The novel was published in 1924 and the sin-eating episode could have been inspired by memories of Richard Munslow, since Mary Webb often visited Ratlinghope.