St Mary the Virgin
SY15 6EB Parking at 'Snead, Welcome to Wales' layby on A489 and walk down the lane.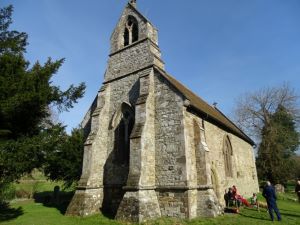 Snead Church is on the Shropshire/Powys border between Churchstoke and Bishop's Castle and alongside the River Camlad. The tiny church of St Mary the Virgin, Snead is hidden away off roads, in a very rural setting close to farmland . It has a small churchyard which is still open for burials. Its history goes way back to an Augustinian Priory founded in the 12th century. The building was restored in Victorian times but much of the East and South sides of the church are medieval. A tiny belfry contains medieval bells while the 12th Century font was originally a quern – a vessel for corn and liquids- spot the pouring lip on the edge. Visitors welcome all the year.
The strange stonework on the north side may have been an outdoor preaching platform at one time.
Snead is pronounced 'Sned.' The church is hidden away but well worth the search!
Follow this interesting church on their Facebook page:
https://www.facebook.com/Snead-Church-Powys-1585264401748284/