St John the Baptist

SY7 9AH Parking in English Heritage car park, wheelchair access, WC.
Open daylight hours Apr to Sep. In line with Stokesay Castle Oct to March
24th August to 5th September Bible Yarns Exhibition:-
A collection of bible stories crafted in fascinating details
August Bank Holiday Sunday and Monday sale of books (and tea and cake!)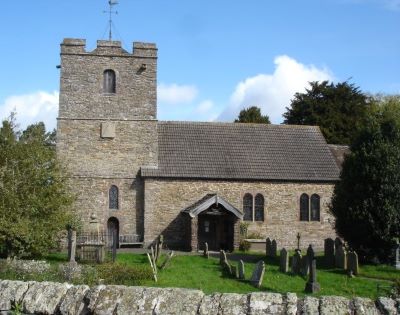 The original church of St John the Baptist at Stokesay, near Craven Arms, was built around 1150 as a chapel to Stokesay Castle and was probably expanded once the castle site developed in the 13th century. As a result of the Civil War destruction Stokesay church is a rare example of a church extensively rebuilt during the Puritan period (1654) although some Norman features survive at lower levels, especially on the north side of the building.
Featuring in Simon Jenkins England's Thousand Best Churches, its most striking features are the biblical texts on the walls, two decker pulpit, box and canopied pews and a West Gallery. This has a staircase leading to it and at the north side, space for the musicians. Originally the band would have included a bass viol, flute and clarinet, and was replaced about 1855 by a harmonium, and later still by the present organ. Today it is still the parish church which serves Craven Arms and there is regular worship at 10am on most Sundays.
More information about this interesting church HERE (A Church Near You)
A link to the Stokesay Castle website is here
Stokesay is a Caring for God's Acre church. For more information on the conservation work of this organisation, visit their website.
PIcture; AP