St Michael and All Angels
SY9 5EE Parking, wheelchair access, open daylight hours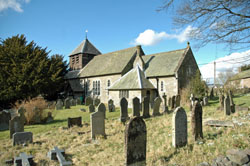 St Michael's is an early medieval foundation with a Norman west wall and blocked doorway. The late nineteenth century reconstruction includes an imposing weather-boarded tower. The "Hurricane stone" is a memorial to a family which perished in an eighteenth century blizzard. Medlicott and Rogers wall tablet memorials and windows.
This peaceful Church is open every day; in a small village which is uniquely located on a hill top, probably because it is a location that could be defended more easily. There are wide views from the tranquil churchyard - with the Longmynd to the east and the River Onny to the west. Many local footpaths provide opportunities to walk through the beautiful countryside.
The 'olde worlde' village pub, The Crown Inn, has a friendly reception, good food and local ales.
https://thecrowninnwentnor.co.uk/