St Julian's Centre, St Alkmund's Square, SY1 1UH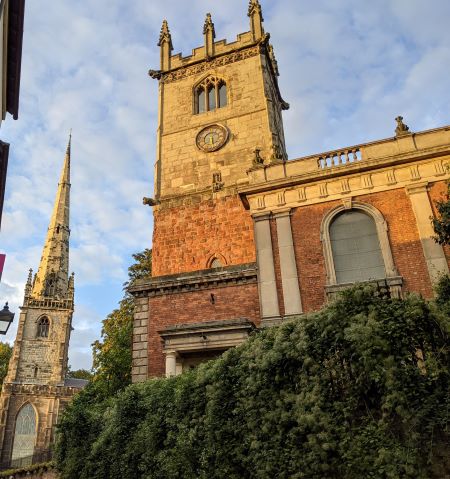 Open Saturday 12.30-3pm Viewing at other times email <stjuliansshrewsbury@outlook.com>
Disabled access from the rear entrance.
Parking, town car parks.
Toilets, including disabled.
St Julian's is in the foreground, the spire of St Alkmund's in the background.
St Julian's church is one of the four Saxon foundations in Shrewsbury. The tower dates from the 12th century whereas the present nave was designed by Thomas Farnolls Pritchard who also designed the Iron Bridge at Telford. Pritchard was born in Shrewsbury and baptised in St Julian's Church on 11 May 1723.
The building is privately owned and has recently returned to public worship.