Click on each entry to visit its page.
The member churches are grouped into five regions comprising Shrewsbury and the four quarters of Shropshire: the A458 and A5/M54 dividing the county north and south, and the A49 to the east and west.
To see a map, click the booklet picture and scroll down.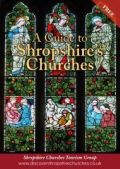 Adderley NE
Alberbury SW
Astley NE
Aston Eyre SE
Badger SE
Barrow SE
Billingsley SE
Bromfield SW
Broseley SE
Bucknell SW
Burford SE
Cardeston SW
Cardington SE
Caynham SE
Chelmarsh SE
Cheswardine NE
Chetton SE
Claverley SE
Clive NE
Clungunford SW
Cound SE
Culmington SE
Diddlebury SE
Doddington SE
Easthope SE
Edstaston NW
Ellesmere NW
Ford SW
Forton NE
Frodesley SE
Glazeley SE
Grinshill NW
Hadnall NE
Hanwood SW
Harley SE
Highley SE
Hodnet NE
Holdgate SE
Hope Bagot SE
Hope Bowdler SE
Ironbridge SE
Jackfield SE
Kinlet SE
Lilleshall NE
Llanyblodwel NW
Longnor SE
Ludford SW
Meole Brace SHR
Melverley NW
Minsterley SW
More SW
Moreton Say NE
Much Wenlock SE
Munslow SE
Onibury SE
Oswestry NW
Petton NW
Pontesbury SW
Quatford SE
Ratlinghope SW
Selattyn NW
Shawbury NE
Shelve SW
Shipton SE
Shrewsbury Abbey SHR
Shrewsbury URC SHR
St Alkmund SHR
St Chad SHR
St George SHR
St Giles SHR
St Julian SHR
Smethcott SW
Snead SW
Stanton Lacy SE
Stokesay SW
Stottesdon SE
Tong NE
Tugford SE
Upton Magna NE
Wentnor SW
Whitchurch NE
Whittington NW
Whitton SE
Wombridge NE
Worfield SE
Wrockwardine NE