Holy Trinity TF8 7NS
Parking limited, details of keyholders available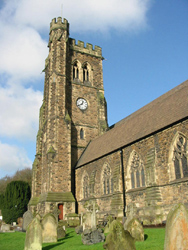 The 'Jewel of the Dale'. Endowed in 1851 by Abraham Darby IV, Holy Trinity has many treasures. A superbly decorated chancel ceiling and fine stained glass windows including a rare 16th century Flemish glass window depicting The Last Supper. Historic stone carvings and individually carved wooden pew ends with iron gates.
There is a fine Harrison & Harrison three manual pipe organ .
You will also find a monument to Captain Webb - the first person to swim the English Channel without the use of artificial aids.
More about Holy Trinity on their website: www.coalironlitt.co.uk