St Cuthbert
SY7 0PN parking, wheelchair access, WC, open daylight hours.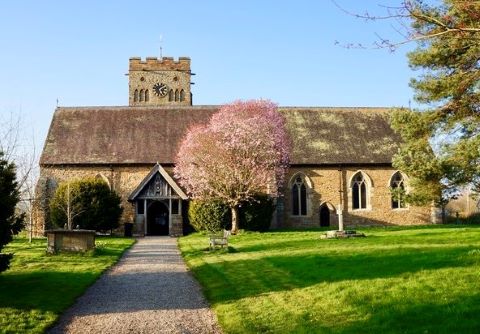 An early fourteenth century church with Victorian additions in a tranquil setting near the river Clun.
An earlier, wooden church stood on this site, dedicated to the much loved Anglo Saxon, St Cuthbert, who loved animals and wild countryside. He was famous for performing cures and the Lindisfarne Gospels were dedicated to him.
The present stone building was begun by the Lord of the Manor, Roger de Halberdine, soon after 1305, unfortunately just before a mini ice age. Nevertheless, the villagers continued building their church for more than 40 years despite such great poverty that they were frequently excused from paying tax.
Early glass and decorations were destroyed in the Reformation but the archway for Roger's tomb remains and 14th Century wooden chest, which held his robes as an Acolite, is still in use in the chancel. The medieval bells, which were originally housed in a turret on the roof, are frequently rung today.
It contains a Binns organ of exceptional quality and an early preaching cross. There is a fine oak carving of St Cuthbert above the porch.
Read more about the life and work of the church at Friends of St Cuthbert's
Photo: Benefice website