TF13 6JZ Parking, open daylight hours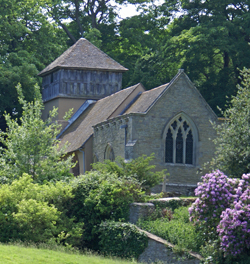 St James has tenth century origins. The Norman tower with medieval chancel was rebuilt in 1589.
We are a friendly congregation and welcome visitors to our 11th century church, which is always open, or to join us at our services. Come and see the snowdrops in February or find out about our local children who were sent away on the Mayflower in 1620. .
website: www.wenlockchurches.co.uk/shipton.htm
Shropshire's Mayflower Children
Visitors to the parish church of St James, Shipton, near Much Wenlock, in deepest rural Shropshire, find a plaque to the four young children of Katharine More who were banished by her husband, Samuel, to America on the Mayflower in 1620. The story behind this plaque is of family intrigues to consolidate two estates, the arranged marriage of two, ill-matched cousins, the claimed but unsubstantiated betrothal of Katharine to the son of one of her father's tenant farmers, Jacob Blakeway, the birth of the four children who were declared not to be his by Samuel and the cruel banishment of the children. Both Katharine and Jacob then disappear from the records so we do not know what happened to them
The church records show the baptisms of the four children that would have taken place in the very font that exists today, along with the marriage of Katharine and Samuel. Jacob Blakeway's baptism is recorded in the parish register in the neighbouring church of St Michael and All Angels, Stanton Long. He and his parents lived in neighbouring Brockton. Only one of the children, Richard, survived the crossing and the hardships of the first year in America. He has his own interesting story as a sea captain, merchant adventurer and privateer.
Mike Brogden, Secretary, Shropshire's Mayflower Children, .
Website: www.shropshiresmayflowerchildren.com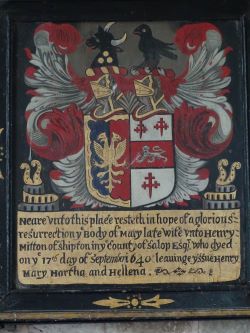 A Mitton memorial, and a Jacobean pulpit